MEDICARE FOR ALL IN 2019
REPRESENTATIVE JAYAPAL'S BILL H.R. 1384
A HISTORY MAKING MOMENT
A MATTER OF LIFE AND DEATH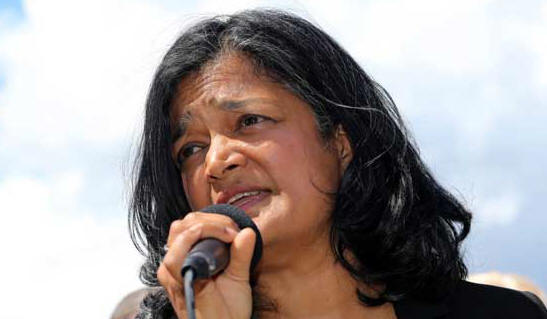 Today is a historic moment in our nation's history. Representative Pramila Jayapal (D-WA) released her new 2019 Medicare for All bill, a bill that paves the road for creating a single payer health care system, a bill being hailed as an "astonishingly strong" plan. More than 100 congressional co-sponsors are on Jayapal's side. Her bill envisions a quick transition to a public health care plan with a robust set of benefits.
The proposal is to transition the United States to a single-payer health care system, one in which a single, government-run health plan provides insurance coverage for all Americans.
"We mean a complete transformation of our health care system and we mean a system where there are no private insurance companies that provide these core benefits," Jayapal told reporters. "We mean universal care, everybody in, nobody out." (Vox, 2-26-19)
Jayapal's bill envisions a future where all Americans have health coverage and pay nothing out of pocket when they visit the doctor or hospital. Her plan, the Medicare for All Act of 2019, describes a benefit package that is more generous than what other single-payer countries, like England or Canada, currently offer. The benefits in Jayapal's bill are even more generous than those included in Sen. Bernie Sanders (I-VT) Medicare-for-all plan.
So what specifically would Jayapal's legislation do? CNBC lists a few things:
- It would create a single-payer, government-funded health-care program within two years, eliminating the age 65 threshold for Medicare eligibility.
- It would not charge beneficiaries copays, premiums or deductibles.
- The plan would cover prescription drugs, vision, dental, mental health, substance abuse and maternal care. It would also provide universal coverage for long-term care for people with disabilities.
Jayapal has the following to say about Medicare for All: "Medicare for All is the solution our country needs. Long-term care, mental health services, women's reproductive health. All without co-pays or deductibles." (Common Dreams, 2-14-19)
In an analysis of Jayapal's legislation and the broader fight for Medicare for All in Splinter, single-payer proponent and health policy expert Tim Faust offered strong praise for the Medicare for All Act after reading an overview of the bill. Faust wrote that—while not perfect—Jayapal's bill "appears to meet all of the criteria for a proper single-payer plan."
As Faust mentions, the problem with American Health Care is not a problem with "care," it's a problem with "finance." Currently, it is extremely profitable to charge a sick person as much as possible, and it is not profitable to insure people who are sick, or are likely to become sick. This is the problem in general with a health care system run on the basis of profit. However, as Faust points out, if there is a federal single payer, as is the case in a "Medicare for All" plan, there is more power to leverage costs. (Splinter, 2-14-19)
Faust goes on to state that "Medicare for All" is a misnomer, and that a true single-payer plan would be a significant improvement and expansion of Medicare, which has all kinds of loopholes, exclusions, and out-of-pocket costs. (Splinter, 2-14-19)
So what does a health policy need to actually be successful, according to Faust?
- A single, mandatory risk pool.
- Comprehensive coverage
- Standards, payment, and oversight at the federal level.
- Local implementation and flexibility
Of several health care bill plans currently in development, Faust states that only Jayapal's bill includes all of these criteria.
---
READ THE BILL HERE
H.R.1384 - To establish an improved Medicare for All national health insurance program
WATCH VIDEOS OF CONGRESSWOMAN PRAMILA JAYAPAL RELEASING HER BILL
Make sure to turn up the volume. The volume of these videos was somewhat low.
Video on Pramila Jayapal's Facebook
Video on Women's March Facebook
SUMMARY OF MEDICARE FOR ALL ACT 2019
Read Medicare for All Act 2019 Summary Here (PDF)
Medicare for All Act 2019 Section-by-Section (PDF)
PRAMILA JAYAPAL AND DEBBIE DINGELL'S LETTER TO DEMOCRATIC COLLEAGUES LOOKING FOR COSPONSORS
CONGRESSWOMAN PRAMILA JAYAPAL
Facebook Twitter Instagram YouTube
NEWS ON JAYAPAL'S 2019 MEDICARE FOR ALL BILL
'The Time for Medicare for All Has Come': Jayapal Unveils Visionary Bill to Remake US Healthcare System (Common Dreams, 2-27-19)
House Democrats unveil a sweeping 'Medicare-for-all' bill — here's what's in it (CNBC, 2-27-19)
Physicians Group Endorses the Medicare for All Act of 2019 (Common Dreams, 2-27-19)
More than 100 House Democrats to unveil 'battle-ready' Medicare-for-all plan as 2020 election looms (The Washington Post, 2-26-19)
Medicare-for-all: Rep. Pramila Jayapal's new bill, explained (Vox, 2-26-19)
Jayapal Says Medicare for All Bill Coming in Two Weeks as Expert Calls Plan 'Astonishingly Strong' (Common Dreams, 2-14-19)
The Health 202: Jayapal to roll out sweeping Medicare-for-All bill by month's end (The Washington Post, 2-14-19)
The Only Guide to 'Medicare for All' That You Will Ever Need (Splinter News, 2-14-19)
WORLD FUTURE FUND REPORTS