CHINESE VISIONS OF NATURE
AND POWER
THE EMPEROR IS BUT A PART OF THE LARGER
NATURAL COSMIC LANDSCAPE
HE IS BUT A SMALL FIGURE AT THE BOTTOM
OF THIS TANG DYNASTY SCROLL
THE EMPEROR VISITS MOUNT TAI DURING THE TANG DYNASTY
---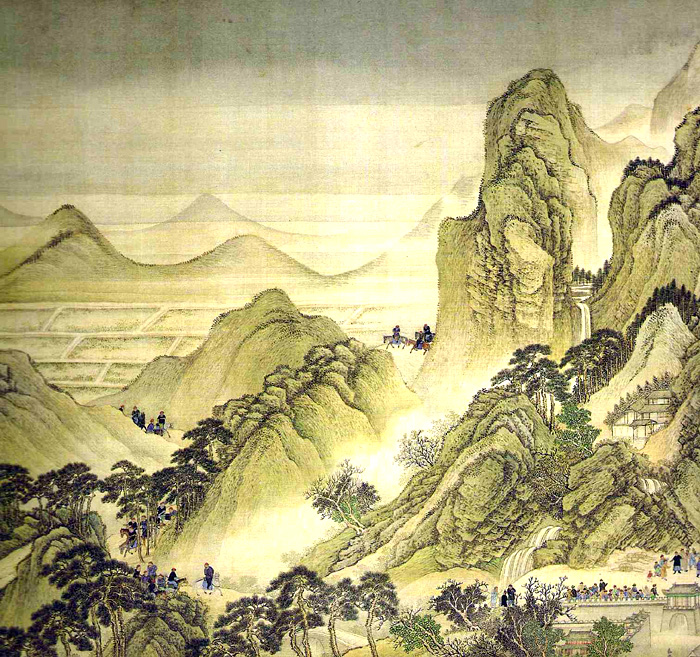 THE EMPEROR VISITS MOUNT TAI DURING THE CHING DYNASTY 1000 YEARS LATER
---
MOUNT TAI TODAY
---
Mount Tai is one of the five Sacred Mountains of China.
According to historical records, Mount Tai became a sacred place visited by emperors to offer sacrifices and meditate in the Zhou Dynasty before 1000 BC.
A total of 72 emperors were recorded as visiting it.
Writers also came to be inspired, compose poems, write essays, paint and take pictures.
Hence, a great many cultural relics were left on the mountain.
VIDEOS
Mount Tai (UNESCO World Heritage Sites in China) (YouTube)
Ariel view of China — Magnificent Mount Tai | iPanda (YouTube)
LINKS
Learn More About Mount Tai (Wikipedia)