SINGLE PAYER HEALTH INSURANCE
THE ONLY COST EFFECTIVE OPTION FOR KEEPING AMERICA HEALTHY
CBO PROJECTS THAT 30 MILLION NON ELDERLY CITIZENS
WILL STILL LACK HEALTH CARE UNDER OBAMACARE BY 2022
COULD BE EVEN WORSE DUE TO TRUMP'S ACTIONS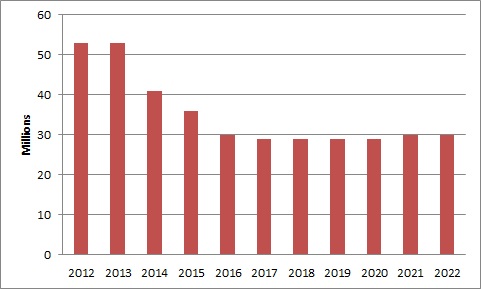 (According to the Congressional Budget Office, 30 million non elderly citizens will still not be insured by 2022, CBO Table 3)
---
RESULTS OF THE AFFORDABLE CARE ACT
AND WHY MORE NEEDS TO BE DONE
What is America's current solution for providing its people with health care? The Affordable Care Act.
The Affordable Care Act (ACA), also known as Obamacare, was enacted in 2010 by President Barack Obama. It represents the most significant overhaul in health care since the passage of Medicare and Medicaid in 1965. Under the ACA, hospitals and primary physicians have been required to transform their practices financially, technologically and clinically to drive better outcomes, lower costs, and improve their methods of distribution and accessibility. The intention of the passage of the ACA was to increase health insurance quality and affordability, while lowering the rate of the uninsured. However, the AFA is not a comprehensive solution. Rather than placing health insurance in the hands of one payer — the government —ACA is a federal mandate making it illegal not to buy health insurance from the private health insurance industries.
What have been the results? Indeed more people did get access to health care. Dropping the rate of uninsured from 48 million in 2009, to around 34 million in 2014 [1][2]. As of 2014, 11.7% of Americans lack coverage, compared to the near 20% who lacked coverage at the height of the recession, in 2010. [3]
So is this an improvement? Yes it is. But the fact remains that some 30 millions still lack health care. So this is not a comprehensive solution.
Much more needs to be done. What America needs is the solution that most developed countries in the world already have. A single payer health care system. A system that can get the number of uncovered individuals down to zero.
---
MOST OF THE WORLD ALREADY HAS UNIVERSAL HEALTH CARE
AMERICA LAGS BEHIND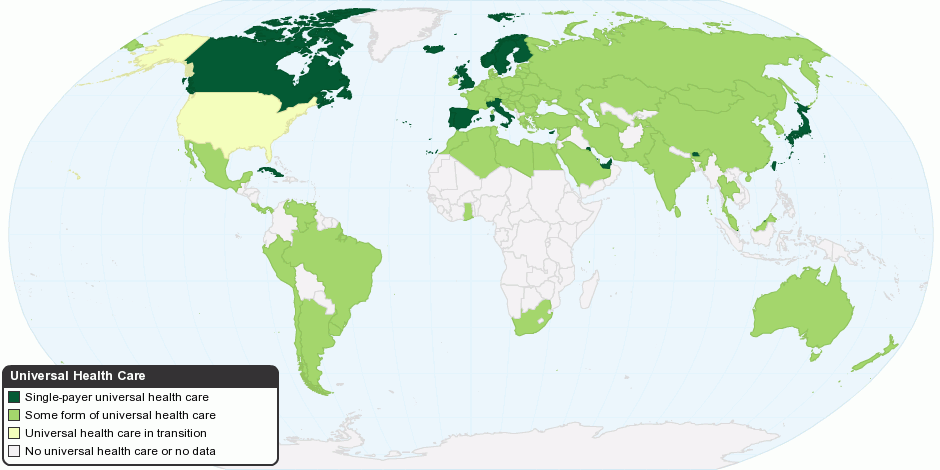 ---
WHY SINGLE PAYER?
Imagine what life would be like if you had to pay "fire insurance" in order for firefighters to come to your house, only to be denied because of your income level or some other preexisting condition (sorry, your neighborhood was too flammable). How confusing would life be if you had to navigate through a patchwork of different companies and a labyrinth of paperwork before you could even have the privilege of finding a fire rescue company that met your legal criteria? Fortunately, there is one source that pays for the firefighters, police officers, mail systems, road workers and teachers in this country. That one payer is the government. Unfortunately, the health industry does not work in the same way. What we need is single payer health care system: a system in which the government pays for all health care costs, rather than private insurers. In a single payer system, everyone is already in the system, so we don't need a mountain of paperwork and overhead costs to keep track of who is in the system and who isn't. While America pays more per capita for health coverage than other developed nations, we still perform poorly in major health indicators such as life expectancy, infant mortality and immunizations rates (Single-Payer National Health Insurance).
Not only is our current system expensive, but it poses a national security threat and a hazard to public health. As mentioned above, we currently have about 34 million people who do not get health care, even after the implementation of the ACA. We are a breeding ground for all kinds of plagues, diseases and viruses. If you are eating out in public at a restaurant, you might not want the uninsured cook to cough on your meal and infect you with the plague. Just some food for thought. If every United States citizen has access to health care, the chances of a mass epidemic are diminished.
We also need a national policy of sick leave.
A BRIEF HISTORY
Thirty two of the thirty three developed nations in the world have universal health care (List of Countries with Universal Healthcare). The United States is the solitary exception. Most of the countries with universal health coverage have single payer. Even in 1883, Germany had set up a compulsory sickness insurance program for workers. Most European countries had some sort of health coverage for as long as the United States has been trying to get it. The battle for universal health care has stretched out for nearly a century in the United States. When other countries started laying the groundwork for universal health care, the United States government left matters to the states, and the states left matters to private insurers. Universal health care never took off in America, partially because of the radical fears of socialism and communism. Insurance companies and interest groups have also played a role in blocking universal health care coverage A Brief History: Universal Health Care Efforts in the US.
---
RELATED WORLD FUTURE FUND REPORTS
The Success of the European Social Welfare State
Education Spending: An Area Where America Spends More and Gets Less
---
SUPPORTERS OF SINGLE-PAYER PLANS
Physicians for a National Health Program
Business Initiative for Health Care
---

HISTORY OF UNIVERSAL HEALTH CARE EFFORTS
PNHP Facts: A Brief History of Universal Health Care from the 1800s to the 1960s
PUBLIC INTEREST GROUP PROPOSALS - SINGLE PAYER PLANS
Proposal of Physician's for a National Health Care Program
---
Why the Demand for 'Medicare for All' Won't Go Away (Common Dreams, 7-26-16)
Single-Payer Is Worth Fighting For (US News, 1-21-16)
The Trouble with For-Profit Healthcare: Even the Insured Face Mountains of Debt (Common Dreams, 1-5-16)
Why Obama's Public Option Is Defective, and Why We Need Single-Payer. (PNHP, 7-22-09)
Single-Payer National Health Insurance (PNHP)
PNHP Research: The Case for a National Health Program (PNHP)
Harvard Medical Study Links Lack of Insurance to 45,000 U.S. Deaths a Year (The New York Times, 2009)
Uninsured and Underinsured Adults Estimated at 61 Million (PNHP, 2005)
Photography of the Uninsured (Talking Eyes Media)
Universal Health Care News (The Progressive Review)
---
Harvard-Berkeley Study Links Poverty and Higher Death Rate
National Coalition for the Homeless: Universal Healthcare
Center on Budget and Policy Priorities
Poverty, Income, and Health Insurance Coverage Tables
---
NATIONAL HEALTH INSURANCE PROPOSALS & LEGISLATION
NATIONAL LEGISLATION - SINGLE PAYER PLANS
H.R. 676: U.S. National Health Insurance Act (2013 - 2014)
The Full Text of the Bill HTML
H.R. 676 Sponsors and Co-Sponsors

Information About H.R. 676
H.R. 1200 Sponsors and Co-Sponsors 2005

U.S. House Of Representatives
Is your representative supporting national health care legislation? Contact their office using this link.
RECENT LEGISLATIVE EFFORTS - SINGLE PAYER PLANS
H.R. 1200: American Health Security Act of 1993 (McDermott) PDF File
S. 491: American Health Security Act of 1993 (Wellstone) PDF File
---
FOOT NOTES
[1]. Health Insurance 2014 Historical Tables (Census Bureau)
[2]. Income, Poverty, and Health Insurance Coverage in the United States 2009 (Census Bureau)