DARKNESS AT NOON IN PAKISTAN
MARCH 1ST, 2016. THE GLORIFICATION OF RELIGIOUS MURDER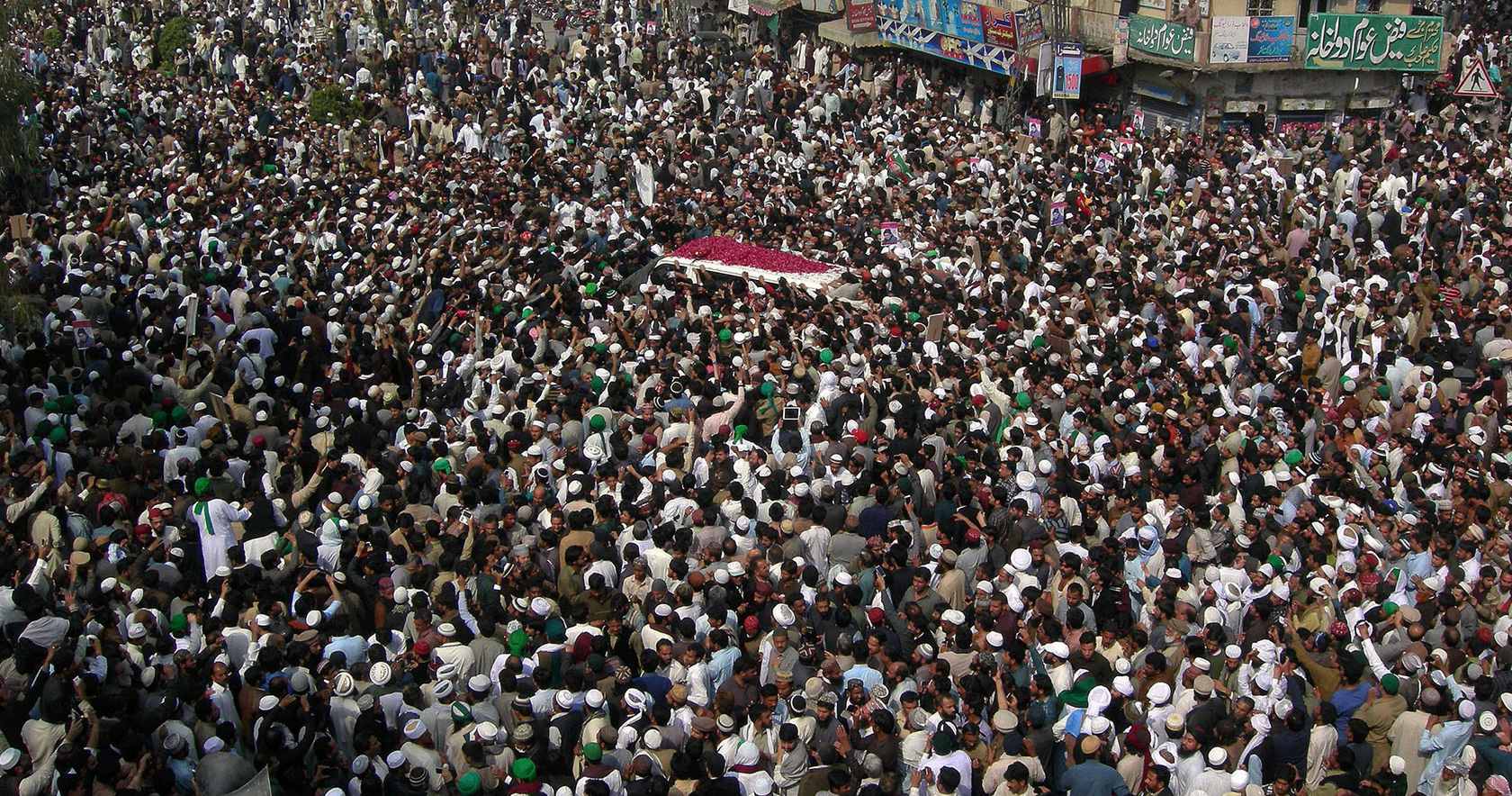 On March 1st, 2016, a crowd of more than 100,000 gathered for the funeral of Mumtaz Qadri, a bodyguard who was sentenced to death for the murder of Punjab Governor Salman Taseer. Taseer was a leading politician who openly criticized Pakistan's blasphemy laws.
Pakistan's blasphemy laws carry a potential death sentence for anyone who insults Islam. From 1987-2014, over 1,300 people have been accused of blasphemy, and most of these people have been non-Muslim minorities. The vast majority of the accusations were lodged for the desecration of the Quran (BBC). An interesting fact to note is that these blasphemy laws were first codified by India's British rulers in 1860. Pakistan inherited these laws when it came into existence after the partition of India in 1947. And then in the 1980's, these laws were expanded to include the death penalty, or life in prison, for insulting the Prophet Muhammad.
Critics say that these laws have been used to persecute minority faiths and to settle personal vendettas.
Governor Salman Taseer was one of the most prominent liberal politicians in the country, and an outspoken opponent of the blasphemy laws. Before his death, he had called for a pardon for Asia Bibi, a Christian woman who was sentenced to death under the blasphemy laws in 2010 for insulting the Prophet Muhammad.
Mumtaz Qadri was assigned to Salman Taseer as his bodyguard. Qadri shot Taseer 28 times at an Islamabad market in January 2011, and was sentenced to death later that year. Qadri claimed it was his religious duty to kill the minister and has gained massive support for his actions. At his funeral Qadri was hailed as a hero and a martyr. His supporters threw rose petals onto his coffin. "He lives! Qadri lives!" mourners chanted, "From your blood, the revolution will come!" (BBC)
This has become an increasingly sensitive issue, and given the trail of murders and kidnappings, many of Pakistan's usually outspoken politicians have been hesitant to speak out. For instance, a month after Salman Taseer was killed, Religious Minorities Minister Shahbaz Bhatti, a Christian who spoke out against the laws, was shot dead in Islamabad, underlining the threat faced by critics of the law. And then in August of that same year, Salman Taseer's son was also kidnapped from his car, and his whereabouts remain untraced. (Dawn)
However, one politician who did comment was the minister for religious affairs, Pir Muhammad Amin Ul Hasnat Shah, who released a statement that described Qadri as a martyr and urged people to participate peacefully in his funeral (The Guardian).
---
VIDEOS
Mumtaz Qadri Funeral Video Leaked
Mumtaz Qadri Janaza Scenes With Drone Camera
World's Biggest Janazah in the World Mumtaz Qadri
---
RELATED LINKS
NEWS ARTICLES ON QADRI MUMTAZ
Thousands at funeral of Pakistani executed for murdering governor (The Guardian, 3-1-16)
Radicalization and fanaticism of the educated (Daily Pakistan, 3-2-16)
Taseer's killer Mumtaz Qadri hanged (Dawn, 3-1-16)
Salman Taseer murder: Pakistan hangs Mumtaz Qadri (BBC News, 3-1-16)
DEATH OF OTHER RIGHTS ACTIVISTS
Pakistani rights activist Sabeen Mahmud shot dead (Aljazeera, 4-25-15)
---
ENGAGE: A NON-PROFIT SPEAKING OUT AGAINST THE BLASPHEMY LAWS
Campaigning to reform Pakistan's deadly blasphemy law (Aljazeera, 4-28-15)
PAKISTAN'S BLASPHEMY LAWS
Pakistan Salman Taseer murder: Thousands mourn at Mumtaz Qadri funeral (BBC, 3-1-16)
What are Pakistan's blasphemy laws? (BBC, 11-6-14)
Blasphemy law in Pakistan (Wikipedia)