BILL CLINTON'S INVASION OF HAITI IN 1994
LIES, LIFE AND DEATH
HOW CLINTON'S "FREE TRADE REFORMS" ENRICHED HIS ARKANSAS AGRIBUSINESS FRIENDS
WHILE DESTROYING THE STRUCTURE OF AGRICULTURE IN ONE OF THE WORLD'S POOREST COUNTRIES
AGRICULTURAL DISASTER IN HAITI
CLINTON DESTROYS STRUCTURE OF HAITIAN RICE FARMING
Since his invasion in 1994, Clinton has completely destroyed the structure of Haitian agriculture. In 1995 he forced the nation to drop tariffs on rice imported from America. Haiti dropped its import tariffs on rice from 50% to 3%. Clinton claimed this move would help Haiti jump into the "Industrial Era." Yet even before Clinton took this action, experts were well aware of the consequences:
"An export-driven trade and investment policy has the potential to relentlessly squeeze the domestic rice farmer. This farmer will be forced to adapt, or (s)he will disappear." –quoted in Lisa McGowan, [January 1997] REPORT HERE (PDF)
After adopting Clinton's policies, Haiti became the fourth-largest importer of rice from the U.S, even though they were the poorest country in the Western Hemisphere. Most of the imported rice came from Clinton's home state in Arkansas. Today, Haiti is the fifth largest importer of American rice in the world, even though their population is just 10 million.
Back in the 1970's Haiti imported only 19% of its food. When Haiti shut out the global markets, they were self sufficient and managed to feed a majority of their population while producing trade surpluses. Yet now Haiti imports over 80% of its rice from the U.S. Due to the new trade agreements, one ton of Haitian rice is now $300 more expensive than American rice on the Haitian market. This has devastated Haiti's ability to feed itself and be self sufficient. Haiti has 700,000 hectares of underutilized arable land, but still suffers from chronic trade deficits and food insecurity as a result of Clinton's policies.
This policy was especially harmful for Haitians, considering that rice was one of their main crops. This has resulted in mass starvation in Haiti. Many of the Haitian people have even resorted to eating cakes of mud and straw.
In the book Planet of Slums (2006), urban theorist Mike Davis points to Haiti - along with Mexico - as countries where the vast expansion of the slum population has been the result of cheap food imports, "free trade agreements" and "structural adjustment programs" made with the U.S. These agreements wiped out the structure of local agriculture and resulted in peasants relocating to slums.
In 2011, an apology was officially issued by former U.S President Bill Clinton who is now the current UN Special Envoy to Haiti. He publicly apologized for forcing Haiti to drop tariffs on imported, subsidized U.S rice during his time in office. Now that Bill Clinton is UN Special Envoy to Haiti, does he plan to implement a program that will help Haiti's demolished agricultural system? Recognition of the problem is a good start, but major action needs to follow words for a real and meaningful change to take place.
BILL CLINTON'S OFFICIAL APOLOGY TO HAITI FOR RICE POLICY
THE OFFICIAL QUOTE FROM BILL CLINTON
BILL CLINTON: Since 1981, the United States has followed a policy, until the last year or so when we started rethinking it, that we rich countries that produce a lot of food should sell it to poor countries and relieve them of the burden of producing their own food, so, thank goodness, they can leap directly into the industrial era. It has not worked. It may have been good for some of my farmers in Arkansas, but it has not worked. It was a mistake. It was a mistake that I was a party to. I am not pointing the finger at anybody. I did that. I have to live every day with the consequences of the lost capacity to produce a rice crop in Haiti to feed those people, because of what I did. Nobody else.
KIM IVES, JOURNALIST OF THE HAITI LIBERTE, QUESTIONS CLINTON
KIM IVES: But what about the change in your thinking to have you issue your apology the other day about the food policies?

BILL CLINTON: Oh, I just think that, you know, there's a movement all around the world now. It was first — I first saw Bob Zoellick say the same thing, the head of the World Bank, where he said, you know, starting in 1981, the wealthy agricultural producing countries genuinely believed that they and the emerging agricultural powers in Brazil and Argentina, which are the only two places that have, parenthetically, increased wheat yields per acre, grain yields per acre in the last decade, because they're the only places with more than twenty feet of topsoil, that they really believed for twenty years that if you moved agricultural production there and then facilitated its introduction into poorer places, you would free those places to get aid to skip agricultural development and go straight into an industrial era.

And it's failed everywhere it's been tried. And you just can't take the food chain out of production. And it also undermines a lot of the culture, the fabric of life, the sense of self-determination. And I have been involved for several years in agricultural products, principally in Rwanda, Malawi, other places in Africa, and now increasingly in Latin America, and I see this.

So we genuinely thought we were helping Haiti when we restored President Aristide, made a commitment to help rebuild the infrastructure through the Army Corps of Engineers there, and do a lot of other things. And we made this devil's bargain on rice. And it wasn't the right thing to do. We should have continued to work to help them be self-sufficient in agriculture. And we — that's a lot of what we're doing now. We're thinking about how can we get the coffee production up, how can we get other kinds of — the mango production up — we had an announcement on that yesterday —- the avocados, lots of other things. And so -—

KIM IVES: What about the return of Aristide, which has been asked for by demonstrations even right across the street today?

BILL CLINTON: Well, that's not in my purview. That's up to the Haitians, including those that aren't demonstrating.
---
HAITIAN LANDSCAPE: A STUDY IN DESOLATION
AS RESULT OF CLINTON'S DESTRUCTION OF HAITIAN AGRICULTURE
VIA "FREE TRADE REFORMS"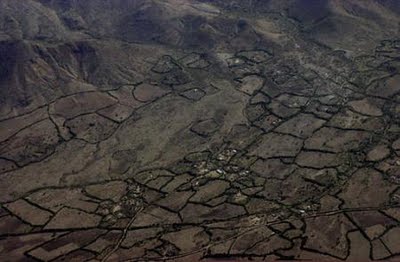 ---
REPORTS
Democracy Undermined, Economic Justice Denied: Structural Adjustment and The Aid Juggernaut In Haiti: 1997 (pdf) Lisa McGowan
ARTICLES ABOUT CLINTON AND HAITI
Response From Clinton's Deputy In Haiti, Dr. Paul Farmer (Democracy Now, 7-14-11)
With Cheap Food Imports, Haiti Can't Feed Itself (Huffington Post, 3-20-14)
Subsidizing Starvation (Foreign Policy, 1-11-13)
Bill and Hillary Clinton: "Friends of Haiti?" (Black Agenda Report)
NEWS ARTICLES
Haiti Open for Business (Haiti Grassroots Watch, 11-29-11)
Despite 'all that money,' more than 1 million Haitians remain displaced by January earthquake (Washington Post 8-22-10)
Most countries fail to deliver on Haiti aid pledges (CNN, 7-15-10)
Where Is Haiti's Bailout? (Common Dreams, 7-13-10)
U.N. officials reject criticism of Haiti relief efforts (Foreign Policy, 1-21-10)
IMF to Haiti: Freeze Public Wages (Common Dreams, 1-18-10)
Why the US Owes Haiti Billions – The Briefest History (Common Dreams, 1-17-10)
Haitian Earthquake: Made in the USA (Common Dreams, 1-14-10)
Why Haiti's Such a Mess (And Why Bill Clinton Was So Wrong to Prop Up Aristide) (History Network News)
BOOKS
The Big Truck That Went By: How the World Came to Save Haiti and Left Behind a Disaster [Kindle Edition]
Killing with Kindness: Haiti, International Aid, and NGOs [Kindle Edition]
Haiti in the Balance: Why Foreign Aid Has Failed and What We Can Do About It [Kindle Edition]
Plunging into Haiti: Clinton, Aristide and the Defeat of Diplomacy
Voodoo Politics : The Clinton/Gore Destruction of Haiti [Paperback]
FILMS
A documentary film available for free streaming on YouTube.
This film discusses how free trade and IMF agreements have wrecked Jamaica.
(Even though this is about Jamaica, and not Haiti, the facts about the IMF and Free Trade are relevant)