PERON AND FASCISM
SOME KEY QUOTES
Was Juan Peron a fascist? It is a controversial subject.
We don't pretend to be able to resolve this issue but it could merit further study.
What we do know for sure was that he was inspired by both Nazi Germany and Fascist Italy.
He was stationed in Italy and was able to observe Mussolini's regime.
It is important to understand, however, that there is no evidence
that the Perons ever supported racism or hostility to Jewish people.
---
Here is a key quote about what he saw in Europe.
ENGLISH:
"Italian Fascism led popular organizations to an effective participation in national life, which had always been denied to the people. Before Mussolini's rise to power, the nation was on one hand and the worker on the other, and the latter had no involvement in the former. […] In Germany happened exactly the same phenomenon, meaning, an organized state for a perfectly ordered community, for a perfectly ordered population as well: a community where the state was the tool of the nation, whose representation was, under my view, effective. I thought that this should be the future political form, meaning, the true people's democracy, the true social democracy"
SPANISH:
"El fascismo italiano llevó a las organizaciones populares a una participación efectiva en la vida nacional, de la cual había estado siempre apartado el pueblo. Hasta la ascensión de Mussolini al poder, la nación iba por un lado y el trabajador por otro, y éste último no tenía ninguna participación en aquella. [...] En alemania ocurría exactamente el mismo fenómeno, o sea, un estado organizado para una comunidad perfectamente ordenada, para un pueblo perfectamente ordenado también; una comunidad donde el estado era el instrumento de ese pueblo, cuya representación era, a mi juicio, efectiva. Pensé que tal debería ser la forma política del futuro, es decir, la verdadera democracia popular, la verdadera democracia social."
Source: Pigna, Felipe (2008). Los mitos de la historia argentina 4. Buenos Aires: Ediotrial Planeta. Page 28.
---
Here is another very specific quote about Mussolini.
"Mussolini was the greatest man of our century, but he committed certain disastrous errors. I, who have the advantage of his precedent before me, shall follow in his footsteps but also avoid his errors."
Quoted in "Argentina, 1943-1979: The National Revolution and Resistance" by Donald C. Hodges.
---
MUSSOLINI'S HUGE POPULAR SUPPORT WAS AN INSPIRATION FOR PERON
SEE OUR PAGE ON TOTALITARIAN QUOTATIONS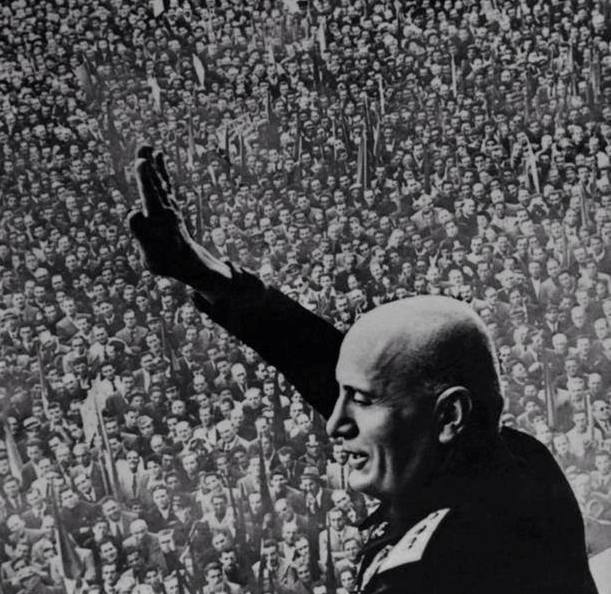 See also: Eva Peron Speeches Eva Peron Tribute Videos