MURDER, LIES AND BARACK OBAMA
HOW OBAMA'S DELIBERATE MASS MURDER OF CIVILIANS IN PAKISTAN
HAS FUELED TERRORISM AND ANTAGONIZED
A STATE WITH THE FASTEST GROWING

NUCLEAR WEAPONS PROGRAM IN THE WORLD
Does the President of the United States have the authority to kill anyone on the planet without trial? President Obama said he does. He has placed himself at the helm of a top secret nominations process in which he designates targets for kill or for capture. This is part of a grim "terror Tuesdays" at the White House where the president and his team discuss who to put on the Kill List.
"Mr Obama is the liberal law professor who campaigned against the Iraq war and torture, and then insisted on approving every new name on an expanding 'kill list,' poring over terrorist suspects' biographies on what one official calls the macabre "baseball cards" of an unconventional war (New York Times, 5-29-12)."
Would America tolerate a foreign power bombing our cities? The answer should be obvious. Under Barack Obama American attacks on civilians in Pakistan have soared. The result is a rising level of hatred towards America among all levels of Pakistani society. 75% of Pakistanis consider the U.S. an enemy. The drone strikes are not making the American people safer. David Kilcullen, the Former Senior Advisor to General David Petraeus says the following about the Drone War: "I was a military guy for 25 years. I've done seven wars. I'm not about being nice to the enemy. But the blow-back and the aspect of political destabilization. Those things ultimately do make us less safe (Signature Strike Investigation Video)."
---
In the rally shown below 100,000 Pakistanis vent their fury against Obama's war crimes as Imran Khan speaks.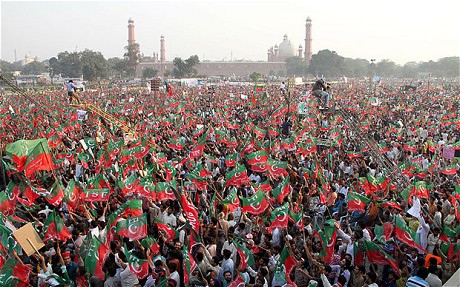 ---
Part of the idiocy in America's dealings with Pakistan is that we are enraging are a heavily armed nuclear power. There is much political debate about the possibility of nukes in Iran. Yet many Americans do not realize that Pakistan has between 90-110 nukes (Arms Control Association). According to a New York Times article (01/31/2011) Pakistan's nuclear arsenal is growing so fast that it may soon become the world's fourth nuclear power, behind only Russia, America and China. (See article.)
---
EXAMINING OBAMA'S LIES ABOUT KILLING CIVILIANS IN PAKISTAN
The video below contains a speech where Obama states:
"Before any strike is taken, there must be near certainty that no civilians will be killed or injured. The highest standard we can set."
The video below reveals this statement by Obama to be a flat out lie. Skeptical? Watch the video.
LIVING UNDER DRONES
Also See: Drone 'Signature Strike' Witness Responds To Obama Speech: 'I Don't Trust A Single Word' (Huffington Post, 6-19-13)
---
Obama's lies about his mass murder of children and other civilians are compounded by a campaign of lies by other top Obama administration officials and key Democrats in Congress such as Dianne Feinstein.
CIA Director John Brennan's Lies About Drones: In 2011, After much urging from the ACLU to reveal public information on the clandestine Drones Program, the White House's top counter-terrorism advisor John Brennan broke the silence by telling reporters the following: "in the last year 'there hasn't been a single collateral death because of the exceptional proficiency, precision of the capabilities that we've been able to develop (ACLU).'" Obama then nominated him to head the CIA.
Senator Feinstein is the Chair of the Senate Intelligence Committee who claims that fewer than 10 civilians per year are typically killed by America's targeted killing program, despite evidence to the contrary. In this role, Feinstein has a responsibility to ensure that Congress provides proper oversight of Obama's targeted killing program. Yet during John Brennan's confirmation hearing, she made the following remarks about drone fatalities:
"But for the past several years, this committee has done significant oversight of the government's conduct of targeted strikes, and the figures we have obtained from the executive branch, which we have done our utmost to verify, confirm that the number of civilian casualties that have resulted from such strikes each year has typically been in the single digits (The Atlantic, 2-11-13)."
President Barack Obama claims that his Drones War is a highly precise tool for taking out terrorist threats, and that hardly any civilians are targeted. Many Americans also believe that this process is highly precise and safe.
However, independent estimates place the number of non-combatant deaths at 3,000 (New America Foundation). More often than not, the targets are located by a drone that is 30,000 feet in the air. It is not even required for the Defense Department to know the names of the people being targeted. "Today, the Defense Department can attack suspects in Yemen whose names they don't know (New York Times)." Which raises the question; How accurate can these strikes really be? While the Obama administration has been highly secretive about these surgical drone strikes, the people actually living under the daily threat of drones have their own story to tell.
These drone strikes are destabilizing the regions they target and creating more hostility instead of peace. They may end up creating a nuclear nightmare for the entire world. Check out the first hand accounts below:
---
THE FUTURE OF WORLD'S ISLAMIC NUCLEAR ARSENAL
WHAT IS AT STAKE IN THE DEBATE OVER OBAMA'S SLAUGHTER OF PAKISTANI CIVILIANS
THESE WEAPONS ......
COULD END UP HERE.
PRESIDENT OBAMA, GLOBAL JUDGE, JURY AND EXECUTIONER
Secret 'Kill List' Proves a Test of Obama's Principles and Will (New York Times, 5-29-12)
Warrior in Chief (New York Times, 4-28-12)
Obama's Drone War on Women and Children (You Tube, 4-13-12)
Civilian Deaths from CIA Drone Strikes: Zero or Dozens? (ACLU, 7-19-11)
PAKISTANI NUCLEAR PROGRAM
Nuclear Race on the Subcontinent (New York Times, 4-4-13)
Why does Pakistan have world's fastest-growing nuclear program? (The Christian Science Monitor, 5-17-11)
INTERNATIONAL REACTIONS
Blowback: In Yemen, US Drone Attacks Backfiring (Common Dreams, 5-30-12)
DEPARTMENT OF JUSTICE WHITE PAPER
This 16 page memo gives extra-judicial reasons for killing American Citizens.
Read the memo here (PDF)
Memo Cites Legal Basis for Killing U.S. Citizens in Al Qaeda (New York Times, 2-5-13)
Chilling legal memo from Obama DOJ justifies assassination of US citizens (The Guardian, 2-5-13)