NATO'S LIES ABOUT EXPANSION EASTWARD
What exactly was Moscow promised in 1990 by the West? This has been the subject of much dispute.
There should be no dispute. There is not a shadow of doubt that Russia was very specifically promised that NATO would not expand by both America and Germany.
Perhaps, the only reason for some confusion are some misleading statements to the contrary by Gorbachev's former foreign minister, Eduard Shevardnadze. These statements have been proven totally false by the record, and in our view the only reason that he made them was because he later became President of Georgia and wanted Georgia to join NATO. There are also people in the United States who deny that such an agreement with Russia was ever made, such as former U.S. Secretary of State James Baker.
However, after speaking with many of those involved in the negotiations and examining previously classified British and German documents in detail, the German News magazine DER SPIEGEL has made the argument that the West did everything it could to give the Soviets the impression that NATO membership was out of the question for countries like Poland, Hungary or Czechoslovakia.
After all, why would Moscow even agree to the unification of Germany unless they were getting something in return?
Unfortunately, this whole episode has reminded many Russians of the broken promises made to Russia about a second front in World War II and supposed western aid (that never came) to the Russian forces at Stalingrad, the most decisive battle of World War II. See our carefully documented report: Broken Anglo American Promises to Russia in World War II
GERMAN FOREIGN MINISTER'S COMMITMENT AGAINST NATO EXPANSION ON RECORD
On February 10th, 1990, between 4 and 6:30 p.m., Genscher (German Foreign minister in 1990) spoke with Shevardnadze. According to the German record of the conversation, which was only recently declassified, Genscher said: "We are aware that NATO membership for a unified Germany raises complicated questions. For us, however, one thing is certain: NATO will not expand to the east." And because the conversion revolved mainly around East Germany, Genscher added explicitly: "As far as the non-expansion of NATO is concerned, this also applies in general." (Der Spiegel, 11-26-09)
US SECRETARY OF STATE STATES IN DISCUSSIONS THAT NATO WOULD NOT EXPAND "ONE INCH TO THE EAST"
There is also the fact that U.S. Secretary of State, James Baker, even spelled out this commitment in a discussion with Gorbachev on February 9th, 1990 in St. Catherine's Hall at the Kremlin. There would be, in Baker's words, "no extension of NATO's jurisdiction for forces of NATO one inch to the east," provided the Soviets agreed to the NATO membership of a unified Germany. (Der Spiegel, 11-26-09)
NATO SECRETARY GENERAL GIVES SOVIET UNION FIRM SECURITY GUARANTEE IN BRUSSELS SPEECH
NATO's then-Secretary General Manfred Woerner stated in a speech delivered in Brussels on May 17, 1990, that "the fact that we are ready not to place a NATO army outside of German territory gives the Soviet Union a firm security guarantee (National Interest, 4-16-07)."
CAN ONE DEPEND ON AMERICAN POLITICIANS?
GORBACHEV SAYS "NO"
Now, 20 years later, Gorbachev is still furious when he is asked to comment about this episode. "One cannot depend on American politicians," he told SPIEGEL.
Gorbachev has also said, "They probably rubbed their hands rejoicing at having played a trick on the Russians," he then added that this had led to Russia's disillusionment with post-Cold War relations with the West.
WHY DIDN'T GORBACHEV GET THE WEST TO PUT ITS AGREEMENT IN WRITING?
One argument from Western politicians is that this agreement wasn't in writing, so it doesn't exist. So why didn't Russia get this agreement in writing? For one thing, the idea of NATO expansion into the East at the time was absurd.
As Der Spiegel points out, no Eastern European government was striving to join NATO in that early phase, and the Western alliance had absolutely no interest in taking on new members. It was too expensive, an unnecessary provocation of Moscow and, if worse came to worst, did the Western governments truly expect French, Italian or German soldiers to risk their lives for Poland and Hungary?
Yet then in 1991 the Soviet Union collapsed and things changed. There was the war with Bosnia where thousands died, and suddenly many Eastern States wanted to join NATO.
NEW DOCUMENT FROM 1991 SUPPORTS RUSSIAN CLAIMS THAT NATO VIOLATED WESTERN COMMITMENTS
A newly discovered document from March 1991 shows US, UK, French, and German officials discussing a pledge made to Moscow that NATO would not expand to Poland and beyond. The document has been published in Der Spiegel.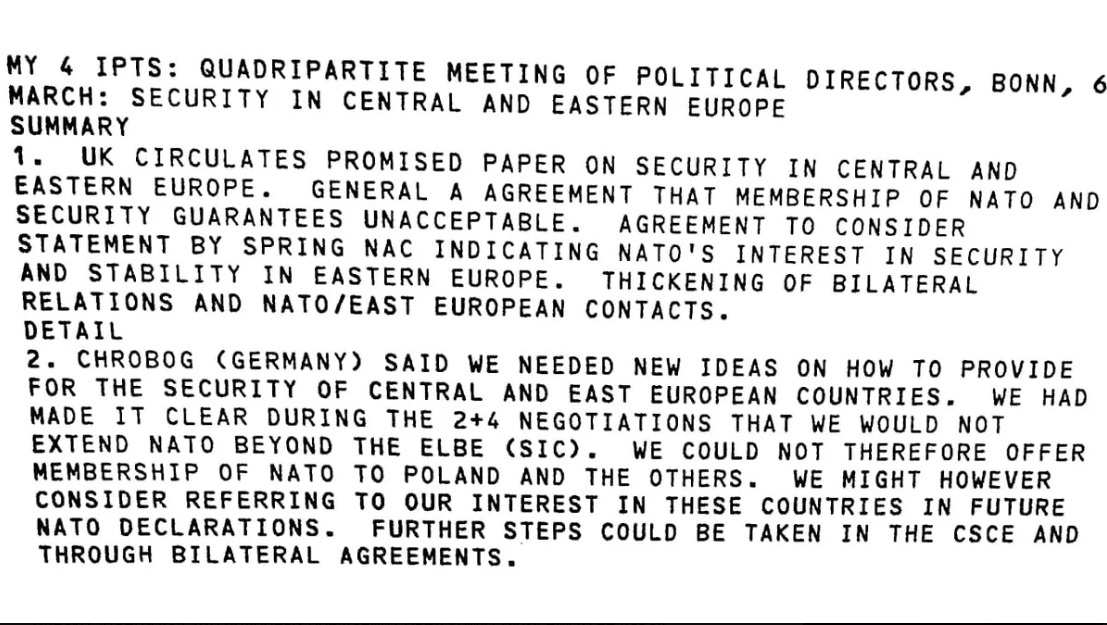 (This is a screenshot of the minutes of a March 6, 1991 meeting of US, UK, French and German diplomats discussing NATO and Eastern Europe)
SOURCE FOR ARTICLE

New find of files from 1991 supports Russian accusation (Spiegel, 2-18-22)
West promised not to expand NATO – Der Spiegel (RT, 2-18-22)
Is Vladimir Putin Right? (Spiegel, 2-15-22)
NATO's Eastward Expansion: Did the West Break Its Promise to Moscow? (Spiegel, 11-26-09)
Broken Promises (The National Interest, 4-16-07)
SUGGESTED READING
Broken Anglo American Promises to Russia in World War II (World Future Fund)
The Ukraine Crisis (World Future Fund)