PLAN COLOMBIA
THE GROWING CONTROVERSY
SHOULD MASSIVE PESTICIDE SPRAYING ON RAIN FORESTS
AND PEASANTS BE PART OF THE "WAR ON DRUGS"?
LINKS FROM DIFFERENT POINTS OF VIEW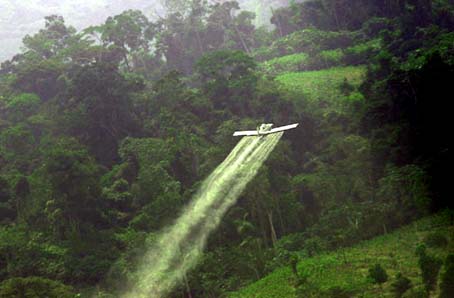 Many Americans are unaware that President Bush is conducting a second major war besides Iraq. In Colombia huge amounts of American aid are financing a military campaign and a giant pesticide spraying campaign in some of the most important and sensitive ecological areas on this planet. More and more questions are being raised about this project.
---
US GOVERNMENT OPINIONS • COLOMBIAN GOVERNMENT • INTERNATIONAL ORGANIZATIONS
STUDIES, POSITION PAPERS & INFORMATION • COMMENTARY
NEWS ABOUT THE U.S. GOVERNMENT PHOTOGRAPHS • VIDEO
ORGANIZATIONS • U.S. DRUG POLICY • OTHER LINKS
---
US GOVERNMENT OPINIONS AND OFFICES
Reports, Information, & Legislation
Office of National Drug Control Policy: ONDCP
Bureau for International Narcotics and Law Enforcement Affairs
U.S. State Department Report on the Pesticide Campaign (2002)
U.S. State Department FAQ on the Aerial Eradication of Illicit Crops
U.S. State Department Andean Regional Initiative
GAO Report 03-319R Drug Control: Coca Cultivation and Eradication Estimates in Colombia (2003)
GAO-03-783 Drug Control: Specific Performance Measures and Long-Term Costs (2003)
House of Representatives Amendment 375 to H. 5307
Introduced in June 2005 by Rep. James McCollum (D., MA), this amendment sought to
cut U.S. government funding of the Andean Counterdrug Initiative. The amendment failed to pass
234 to 189. To find out how your Representative voted, click here.
EPA Letter Concerning the Aerial Spraying Program (2004)
U.S. Congressman John Mica (R., Fla.) calls for use of biological weapons in Colombia
United Nations Office for Drug Control and Crime Prevention
Interamerican Observatory on Drugs
---
Reactions to Plan Colombia and the Use of Pesticides on the Rain Forest and Peasants
STUDIES, POSITION PAPERS & INFORMATION
Transnational Institute: Drugs and Democracy in Columbia
A very useful site. Be sure to check out the links on this page.

Amazon Alliance: Information on US Aerial Eradication in Colombia

Amnesty International: Position Paper on Plan Colombia
LAB Books: Chemical Warfare in Colombia: The Costs of Coca Fumigation
Sunshine Project: "The Risks of Using Biological Agents to Eradicate Drug Plants"
Reality of Aid Reports 2002: "Plan Columbia: Cooperation Toward War or Peace?"
RC Americas Program: "Plan Colombia's Drug Eradication Program Misses the Mark"
Macalester Environmental Review: "The Environment, Plan Columbia, and U.S. Aid"
CIP Policy Report: "The War on Drugs meets the War on Terror"
TED Case Studies: "The Colombia Coca Trade"
TED Case Studies: "Deforestation in Colombia"

Mama Coca: Academic Journal on the Drug War in the Americas
Ambientalistas en Accion: Open Letter Against Aerial Spraying in Chocó, Colombia
---
InterPress Service: "Plan Colombia Fumigation Threatens Amazon, Warn Indigenous Leaders, Scientists"
Critique of "Plan Colombia" by James Ridgeway
Harvard Political Review: "Failed Plan Columbia"
The Cato Institute: "Yet Another Drug War Failure"
Alternative Press Review: "Plan Columbia" by Noam Chomsky
The Nation: "Plan Columbia" by Marc Cooper
Columbia Journal Online: "Plan Colombia's Killing Fields"
Columbia Journal Online: "Plan Colombia: A Closer Look"
Open Democracy: "Colombia's Other War"
Agencia Prensa Rural: "Sol de Oriente agresiones militares de la 'seguridad democrática' y el Plan Colombia" Spanish
---
NEWS ABOUT THE U.S. GOVERNMENT (2005-2006)
Watchdog Challenges U.S. Drug War in Colombia
This is a very important article on a report from the Government Accountability Office
(the investigative arm of the U.S. Congress) released in December 2005. The report is still not available to the public.

AIDA Position Paper: U.S. Congress adds reporting requirements for Plan Colombia
Growing problems create scrutiny

Witness for Peace: Plan Colombia legislative update
See our link above to this amendment under U.S. Government offices.
---
PHOTOGRAPHS FROM PLAN COLUMBIA
Food Crops Destroyed, Coca Untouched
Plan Colombia ... Plan of Death
Grupo Semillas: Revista 21: Photos and Commentary from the Drug War
---
VIDEO ON PLAN COLUMBIA
Testimonies of Horror from the War on Drugs
Testimonies from Ecuadorian peasant farmers that live close to the border with Colombia,
who's health has suffered since the fumigations started. Actual footage and interviews with local health authorities.
Plan Colombia Cashing-In on the Drug War Failure
"A one hour documentary about the first U.S. Oil War of the 21st century".
"It's been 20 years since the launch of the US taxpayer-funded "War on Drugs" in Colombia
and still, more and more drugs and narco-dollars enter the country each year."- From the synopsis.

Plan Colombia Cashing-In on the Drug War Failure
I Films Profile
---
Amazon Alliance
Defending the rights, territories, and environment of peoples of the Amazon Basin.

Washington Office on Latin America

NACLA
North American Congress on Latin America
Transnational Institute

Colombia Human Rights Network

Accion Andina
In Spanish. Based in South America. A group of people preoccupied with the problems of injustice
and exclusion, especially those generated and aggravated by the politics of the authoritarian courts in the field of security.
ONIC:Organización Nacional Indígena de Colombia
National Indigenous People's Organization of Colombia

Witness for Peace

AIDA: Plan Colombia
Human Rights Watch: Colombia

Latin America Working Group: Links Page
Acción Ecológica Ecuador
Monitors Plan Colombia's health impact on peasants and other matters.
---
U.S. DRUG POLICY

Common Sense for Drug Policy

Drug War Facts

Drug Policy Alliance
PBS Chronology: Thirty Years of America's Drug War
---
Evo Morales
Home page of Bolivia's new President who supports legal coca growing (but opposes drug trafficking)
Centre for Geopolitical Drug Studies
---
US GOVERNMENT OFFICES • COLUMBIAN GOVERNMENT • INTERNATIONAL ORGANIZATIONS
STUDIES, POSITION PAPERS & INFORMATION • COMMENTARY • NEWS ABOUT THE U.S. GOVERNMENT
PHOTOGRAPHS • VIDEO • ORGANIZATIONS • U.S. DRUG POLICY • OTHER LINKS
---