THE OSOBYI ARCHIVE
GERMAN RECORDS IN MOSCOW
A GUIDE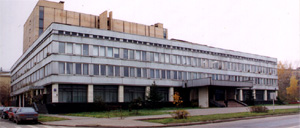 ---
Almost every German government agency ended up in "East" Berlin. As a result, the Russians had a unique power to collect German government documents. The end of the Cold War finally allowed researchers from the West access to many of of these historical documents held in Russian archives. A key part of these records may be found in the Russian State Military Archive within the collection entitled the "Osobyi Arkhiv" (Special Archive). When consulted in tandem with the holdings of captured German documents in the United States and in Germany proper, the Special Archive can provide a great deal of additional documentation on the history of the Third Reich.
These archives could be a crucial source of new information on National Socialist Germany. They were only opened to scholars in 1991 and have not even been totally sorted and organized. Important new information has already come from this source. We urge all scholars with an interest in the subject to look into these archives.
What follows are some guides to the archives. We have not read all these reports but many appear to be interesting.
---
THE RUSSIAN STATE MILITARY ARCHIVE • USEFUL PUBLICATIONS
ONLINE GUIDES AND IMPORTANT LINKS TO RUSSIAN ARCHIVES
---
Address: 125212, Moscow, ul. Admirala Makarova, 29
Telephone: 159-80-91, 159-88-39
Fax: (095)159-85-04, 159-80-91
Reading Room Phone Number: 159-85-23
E-mail: rgvarchive@mtu-net.ru
Website: http://www.rusarchives.ru/federal/rgva/
Hours: Monday through Thursday 10:00-17:00; Friday 10:00-16:00 (Call ahead if you are planning a visit in July or August because the archive is typically closed for two weeks at some point during those months)
Director: Vladimir Nikolaevich Kuzelenkov (tel. 159-80-91 [also fax])
Head of the Reading Room: Liudmila L'vovna Nosyrova (tel. 159-85-23)


HOLDINGS INFORMATION
The records of the former Osobyi (Special) Archive are now included in the Russian State Military Archive. Altogether, the Osobyi Archive is comprised of 870 collections (designated as "fonds" in the archive catalog). These collections include official records from the Nazi regime, the personal papers of Nazi leaders and prominent public figures, records from the governments of other European countries that had been captured by the Germans, and the records of non-governmental organizations, agencies, and individuals throughout Europe. These include those of Jewish and Masonic groups, Socialist parties and labor associations, newspapers and publishing houses, student organizations, and business firms; and collections of unique documentary materials of private and family origin.
FINDING AID FOR SOME OSOBYI RECORDS AT US HOLOCAUST MEMORIAL MUSEUM
The United States Holocaust Memorial Museum has copied a large number of files pertaining to Holocaust-related subjects (as well as other topics). This collection is now available in the U.S. The finding aid for Osobyi Records can be accessed via the online catalog of the USHMM. Archival records and collections are brought up using keyword searches.
A note about keyword searches: documents from the Osobyi collection will come up mixed in with other material on the subject that you are searching for. In order to limit the number of categories that come up with a keyword search be sure to click on the "archives" limit box below the main search box. This will limit the records retrieved to those which are related to the Osobyi Collection.
---
GERMAN LANGUAGE (See below for English)
Götz Aly and Susanne Heim, Das Zentrale Staatsarchiv in Moskau ("Sonderarchiv"): Rekonstruktion und Bestandsverzeichnis verschollen geglaubten Schriftguts aus der NS-Zeit (Düsseldorf:: Hans-Bockler-Stiftung, 1992). Library Call Number CD1717.T8 A5 1992

This short 58 page publication lists the German language collections held in the Russian State Military Archive.

Heinz Boberach (Hrsg.), Inventar archivalischer Quellen des NS Staates: Die Überlieferung von Behorden und Einrichtungen des Reichs, der Länder und der NSDAP, Part 2: Regionale Behorden und wissenschaftliche Hochschulen fur die fünf ostdeutschen Lander, die ehemaligen preussischen Ostprovinzen und eingegliederte Gebiete in Polen, Österreich und der Tshechischen Republik mit Nachtragen zu Teil 1. (Munich: K.G. Saur, 1995). Library Call Number Z2241.N27 B63 1991

Boberach's book is an annotated survey of Nazi records held in archives throughout Germany and Eastern Europe. Many of these individual references contain information on the collection held in the Osobyi Archive.

Sabine Elisabeth Gollmann (Hrsg.), "Beuteakten aus Österreich": Der Österreichbestand im russischen "Sonderarchiv" Moskau. (Vienna: Selbstverlag des Ludwig Boltzmann-Instituts fur Kriegsfolgen-Forschung, 1996). No call number available.

Gollmann's edited volume lists all parts of the Osobyi Archive that are of Austrian provenance (a total of 102 collections and more than 3.4 million documents). It also lists Austrian documents held in consolidated collections.

Kai von Jena and Wilhelm Lenz, "Die deutschen Bestände im Sonderarchiv in Moskau." Der Archivar 45: Heft 3 (1992), pp. 457-67.

Jena and Lenz list the collection numbers for documents from Germany, Austria, and other countries. Separate sections have been included for Nazi records.

Wegner, Bernd. "Deutsche Aktenbestände im Moskauer Zentralen Staatsarchiv: Ein Erfahrungsbericht," in Vierteljahreshefte für Zeitgeschichte 40:2 (1992), pp. 311-19.

A survey of predominantly German-related holdings in the former Special Archive with helpful annotations characterizing some of the most important fonds.

Wolfgang Form and Pavel Polian, "Das Zentrum fur die Aufbewahrung historisch-dokumentarischer Sammlungen in Moskau--ein Erfahrungsbericht." Informationen aus der Forschung. A publication of the Bundesinstitut für Ostwissenschaftliche und Internationale Studien 20 October 1992, no. 7, pp. 1-8. This publication includes a survey of the records of the Reich Secret Police Headquarters (Reichssicherheitshauptamt).

George C. Browder, "Captured German and Other Nations' Documents in the Osobyi (Special) Archive, Moscow." Central European History 24:4 (1992), pp. 424-45; -- "Update on the Captured Documents in the Former Osobyi Archive, Moscow." Central European History 26:3 (1993), pp. 335-42. Browder's article is a short introduction to the archive and its holdings. It contains a list of names for collection numbers 500 to 1524.

Patricia Kennedy Grimsted, Russia's "Trophy" Archives--Still Prisoners of World War II? (Budapest: Open Society Archive, Central European University, 2002). Electronic Version of Russia's "Trophy" Archives

Patricia Kennedy Grimsted, "Twice Plundered or Twice Saved? Identifying Russia's 'Trophy' Archives and the Loot of the Reichssicherherheitshauptamt," Holocaust and Genocide Studies 15:2 (2001), pp. 191-244.

---
ONLINE GUIDES AND IMPORTANT LINKS TO RUSSIAN ARCHIVES
Detailed information in English on Russian archives and documentary sources can be found via these links:
Important Archival Research Web Sites English
This comprehensive listing includes the web addresses of archives in Russia and the U.S. Also, included is information on travel warnings to Russia that researchers may find useful.
Using the Russian Archives: An Informal Practical Guide for Beginners Based on Users' Experience English (PDF File)
This guide provides extremely useful and basic information on working in Russian archives. It offers advice on transportation to and from the archive and on where to eat. Included in its pages are the websites of the major Russian archives.
---
THE RUSSIAN STATE MILITARY ARCHIVE • USEFUL PUBLICATIONS