U.S. THREATENS MILITARY ATTACKS ON RUSSIA
THREATENS TO START WORLD WAR
THIS MADNESS MUST BE CONDEMNED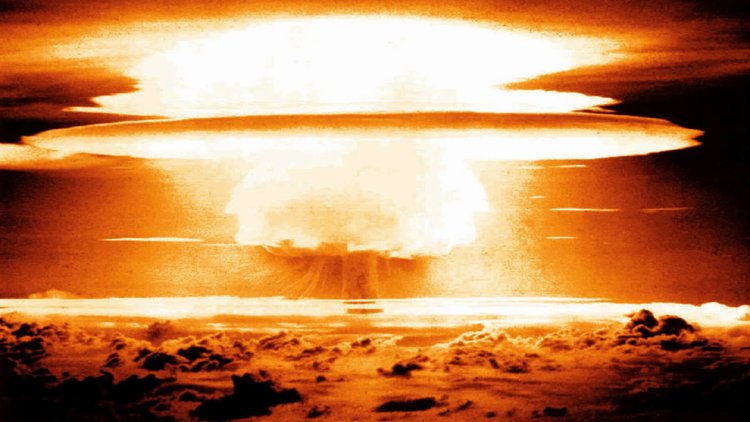 At no time even during the worst days of the Cold War did America ever threaten an unprovoked attack on Russia. The proposals below need to be condemned for what they are: total madness.
---
U.S. INTERIOR SECRETARY CALLS FOR NAVAL BLOCKADE
The U.S. Interior Secretary has proposed a naval blockade against Russia as a way to push Moscow out of the energy market.
The head of the Russian senate's foreign affairs committee has responded that this would be an act of war. And economic actions against another country are indeed an act of war, as we have pointed out in past reports. It is also important to understand that economic threats (such as sanctions) have frequently led to war in history.
Yet not only does the U.S. Interior Secretary, Ryan Zinke, propose meddling in the Russian energy market, but he has proposed using military means to do it. Which makes his statement both an economic and military threat. His solution is dangerous, reckless and amps up tensions between the world's two foremost nuclear super powers. Not a great idea.
Speaking at an industry event, September 28, 2018, in Pittsburgh, hosted by the Consumer Energy Alliance, US Interior Secretary Ryan Zinke said the US Navy can blockade Russia if needed in order to keep it from controlling energy supplies in the Middle East as it does in Europe.
"The United States has that ability, with our Navy, to make sure the sea lanes are open, and, if necessary, to blockade… to make sure that their energy does not go to market," Zinke said. (Sputnik News)
Zinke attended the event to explain why the technology of hydraulic fracturing, also known as fracking, and the shale energy boom has supposedly given the US an edge over its rivals Russia and Iran, by making the US less dependent on foreign sources of energy.
The Interior Secretary believes that the reason why Russia entered the Middle East is hydrocarbons trade.
"Russia is a one trick pony," Zinke said, stating that Russian economy depends solely on its ability to sell energy. "I believe the reason they are in the Middle East is they want to broker energy just like they do in Eastern Europe, the southern belly of Europe." (Sputnik News)
Answering the question on how the US should deal with Russia and Iran, Zinke said that "there are two ways." (Sputnik News)
"There is the military option, which I would rather not. And there is the economic option," he said. "The economic option on Iran and Russia is, more or less, leveraging and replacing fuels." Nevermind that using the Navy to enforce a blockade is a military option. (Sputnik News)
"We can do that because… the United States is the largest producer of oil and gas," Zinke added. (Sputnik News)
President Donald Trump has opposed Russia's new projects aimed at providing other nations with oil and gas, such as the Nord Stream 2 gas pipeline. Trump on multiple occasions urged US European allies to suspend the construction of the Nord Stream 2 pipeline, which would run through the Baltic Sea to a hub in Germany, bypassing Ukraine.
Washington, which is seeking to promote its Liquefied natural gas supplies to the European Union, has repeatedly expressed its opposition to the project, claiming that it was the means of political control used by Russia to exert pressure on the European Union. Washington has made a number of attempts to impede the implementation of the project and even incorporated a provision for counteracting the construction of the Nord Stream 2 pipeline in its Countering America's Adversaries Through Sanctions Act.
The Nord Stream 2 is a joint venture of Russia's Gazprom with France's Engie, Austria's OMV AG, UK-Dutch Royal Dutch Shell, and Germany's Uniper and Wintershall. It aims to deliver 55 billion cubic meters of Russian natural gas a year to the European Union.
Yet the solution proposed by U.S. Interior Secretary, Ryan Zinke is clearly not the answer.
---
U.S. AMBASSADOR TO NATO CALLS FOR DIRECT ATTACK ON RUSSIA

"October 2nd, 2018, Washington's envoy to NATO said that Russia must halt its covert development of a banned cruise missile system, or the United States will destroy it before it becomes operational. The United States believes that Russia is developing a ground-launched system in breach of a Cold War treaty that could allow Russia to launch a nuclear strike on Europe at short notice. But Moscow has consistently denied any such violation.

U.S. ambassador to NATO Kay Bailey Hutchison said Washington remained committed to a diplomatic solution but was prepared to consider a military strike if development of the medium-range system continued.

"At that point, we would be looking at the capability to take out a (Russian) missile that could hit any of our countries," Hutchison told a news conference. (Reuters)

"Counter measures (by the United States) would be to take out the missiles that are in development by Russia in violation of the treaty," she added. "They are on notice." (Reuters)

Hutchison later clarified in a tweet that she was not talking about a preemptive strike against Russia. "My point: Russia needs to return to INF Treaty compliance or we will need to match its capabilities to protect US & NATO interests. The current situation, with Russia in blatant violation, is untenable." (Reuters)

The 1987 Intermediate-Range Nuclear Forces Treaty bans medium-range missiles capable of hitting Europe or Alaska.

In Washington, State Department spokeswoman Heather Nauert said the United States had for some time argued that Moscow was not in compliance with the treaty.

"What Ambassador Hutchison was talking about was improving overall defense and deterrence posture," Nauert told a news conference. "The United States is committed to upholding its arms control obligations and expects Russia to do the very same thing," she said, adding that the U.S. was discussing the issue with its allies. (Reuters)

The Russian Foreign Ministry said that such statements were dangerous, and that it would provide detailed answers to Washington.

"It seems that people who make such statements do not realize the level of their responsibility and the danger of aggressive rhetoric," TASS news agency quoted spokeswoman Maria Zakharova as saying.

In the past, the ministry has said it is ready for talks with the United States to try to preserve the treaty and would comply with its obligations if the United States did. (Reuters)

The U.S. accusations are likely to further strain relations between Moscow and the West.

"We have been trying to send a message to Russia for several years that we know they are violating the treaty; we have shown Russia the evidence that we have that they are violating the treaty," Hutchison said.

U.S. Secretary of Defense Jim Mattis said he would discuss the issue with his NATO counterparts at a scheduled two-day meeting in Brussels from Wednesday.

"I cannot forecast where it will go, it is a decision for the president, but I can tell you that both on Capitol Hill and in State Department, there is a lot of concern about this situation and I'll return with the advice of our allies and engage in that discussion to determine the way ahead," he told reporters in Paris. (Reuters)

Tensions are already high between the U.S. and Russia. What is needed is not more escalation, but solutions for de-escalation. Read some of our reports below.
---
NEWS
U.S. would destroy banned Russian warheads if necessary: NATO envoy (Reuters, 10-2-18)
Blockading Russia? US Interior Secretary's Dangerous Threat (Anti-War, 10-1-18)
US Interior Secretary: Naval Blockade is an Option for Dealing with Russia (Sputnik News, 9-30-18)
---
OUR REPORTS
New Cold War
America and Russia 2018 - How to Avoid War
Nuclear War - What's In It For You
Sanctions
2017 U.S. Russia Sanctions Disaster
Ukraine