THE GRAHAM CASSIDY BILL
DEATH AND LIES FROM THE REPUBLICAN PARTY
FORTUNATELY THIS BILL WAS DEFEATED
The attempts of the Republican Party to destroy the Affordable Care Act (ACA) were a failure. They did not succeed in destroying the ACA, (which would kill over 200,000 people over 10 years) (Our Future), and leave 23 million more people without coverage (CBO).
Yet despite how unpopular this action was, four Republican senators have offered a proposal to reignite the effort. Their plan is being referred to as the "Graham-Cassidy Bill". The four senators are Bill Cassidy [R-LA], Lindsey Graham [R-SC], Dean Heller [R-NV] and Ron Johnson [R-WI].
Not only is this plan another disastrous attempt by the Republican Party to take away health care from millions of American people, but it is a study in lies and deceit. Senator Cassidy went on CNN and said, "There are more people who will be covered under this bill than under the status quo." (CNN Money).
Is this true?
First of all, there is not even an official CBO estimate for the bill out yet. Then there is the fact that the Graham-Cassidy bill would end federal funding for current ACA coverage and partially replace it with block grants to the states that would expire after 2026 (Kaiser Family Foundation). So the idea that this would cover more people is a flat out lie. It's a plan to phase out coverage.
States would also be allowed to waive key parts of the ACA protections, including: prohibitions against insurance companies charging people higher premiums based on their health status and requirements that plans cover essential health benefits. And Planned Parenthood would face a one-year Medicaid funding freeze (Washington Post).
A new report also shows that Medicaid and private insurance subsidies would shrink by $215 billion through 2026, and more than $4 trillion over a 20 year period.
President Donald Trump's support for this plan flies in the face of his promise to American voters in his 2016 campaign that he wouldn't let people "die in the streets."
President Donald Trump has said the following:
My administration has consistently worked to enact legislation that repeals and replaces Obamacare and that can pass the Senate and make it to my desk. As I have continued to say, inaction is not an option, and I sincerely hope that Senators Graham and Cassidy have found a way to address the Obamacare crisis. (USA Today, 9-13-17).
Rather than rehashing different forms of a political flop, our politicians should make the health and safety of the American people a national priority. Denying health care to tens of millions of Americans is not just a political issue, it is an issue of life and death, an issue of national safety and security. What politicians need to do is to work together to come up with a plan that can cover everyone, not on how to take health care away from the masses.
---
CUTS IN FEDERAL FUNDING, 2020-2036, IN BILLIONS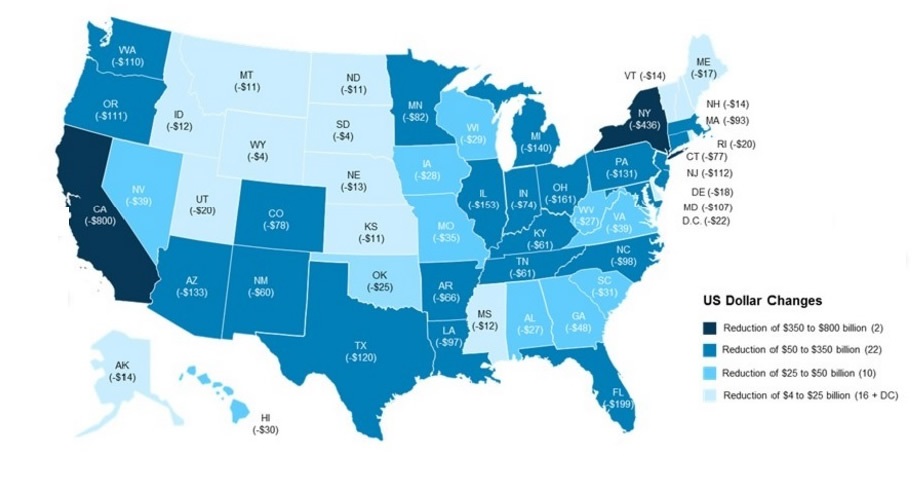 (Source: Avalere Report, 9-20-17)
---
PREMIUM SURCHARGES FOR SELECTED HEALTH CONDITIONS WOULD SKYROCKET
Estimated surcharges for 40-year-old with individual coverage in states that eliminate pre-existing condition protections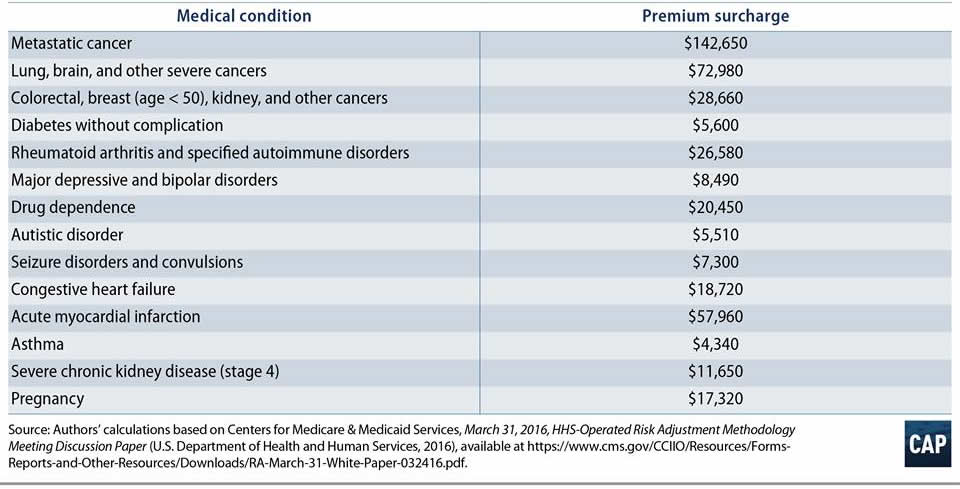 (Center for American Progress)
---
JIMMY KIMMEL SLAMS BILL CASSIDY ON HEALTH CARE BILL LIES
Jimmy Kimmel slams Cassidy over ObamaCare repeal bill (The Hill, 9-19-17)
Jimmy Kimmel: "My Response to Bill Cassidy, Lindsey Graham & Chris Christie (Facebook)
Jimmy Kimmel takes on new health care bill, says Sen. Cassidy lied 'right to my face' (CNN Money, 9-20-17)
---
WORLD FUTURE FUND REPORTS
Need for Single Payer Health Insurance
---
REPORTS
Cassidy-Graham's Waiver Authority Would Gut Protections for People with Pre-Existing Conditions (Center on Budget and Policy Priorities, 9-15-17)
Graham-Cassidy Proposal: Gigantic Block Grants and Huge Health Care Cuts (Families USA, September 2017)
Graham-Cassidy-Heller-Johnson Bill Would Reduce Federal Funding to States by $215 Billion (Avalere, 9-20-17)
Graham-Cassidy-Heller-Johnson Bill Would Reduce Federal Funding to States by $215 Billion (Avalere PDF)
Graham-Cassidy ACA Repeal Bill Would Cause Huge Premium Increases for People with Pre-Existing Conditions (Center for American Progress, 9-18-17)
---
ACTION
Send a Fax to Your Senators (Fax Zero)
---
NEWS STORIES
Graham-Cassidy bill would cut funding to 34 states, new report shows (Washington Post, 9-20-17)
Graham-Cassidy: The last GOP health plan left standing, explained (Vox, 9-13-17)
There's one Obamacare repeal bill left standing. Here's what's in it. (Washington Post, 9-6-17)
Take Two: Inside Bill Cassidy's Plan To Replace Obamacare (Forbes, 9-17-17)
Senate GOP tries one last time to repeal Obamacare (Politico, 9-17-17)
The Graham-Cassidy Obamacare Repeal Bill Still Covers Fewer People (The Atlantic, September 2017)
Trump pushes plan by Sens. Lindsey Graham and Bill Cassidy to replace parts of Obamacare (USA Today, 9-13-17)
Trump wants one last Senate push on Obamacare repeal (Politico, 9-5-17)
---
CLICK HERE TO READ THE GRAHAM-CASSIDY-HELLER-JOHNSON PROPOSAL