GENERAL MACARTHUR AND VIETNAM
HIS MEETINGS WITH KENNEDY
HIS PROPHETIC WARNING
"Anyone who wants to commit ground troops
to Asia should have his head examined."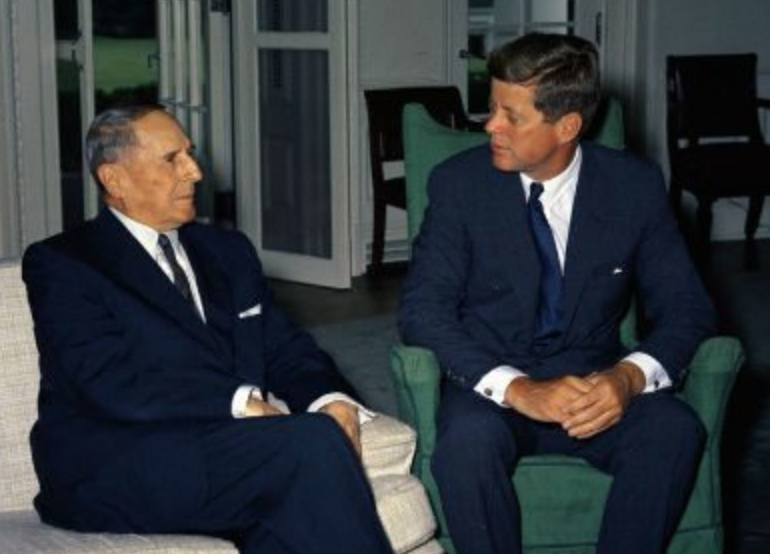 MacArthur met with President John F. Kennedy in three key meetings. The first on April 28, 1961, the second on July 20, 1961, and the third on August 16th, 1962.
SUMMARY OF KENNEDY'S FIRST MEETING WITH MACARTHUR
The first meeting was at New York's Waldorf Astoria Hotel, where MacArthur and his wife lived in a suite on the 37th floor.
Kennedy recorded notes on their discussion, committing MacArthur's advice to a personal memorandum that he later referred to in White House policy meetings. The meeting surprised Kennedy's top aides, many of whom disliked MacArthur. But Kennedy, who'd served as a patrol boat skipper in the Pacific in World War II where MacArthur had commanded, admired him.
"It turns out that Kennedy's memo of the Waldorf Astoria meeting (now at Boston's John F. Kennedy Presidential Library & Museum) is crucial for historians for a number of other reasons. It offers not only a glimpse of how the young president intended to navigate the treacherous waters of the Cold War, but suggests how one of America's most celebrated military officers viewed what might be called the grand strategy of the American Republic: that is, whether and how the U.S. might win its dangerous struggle against the Soviet Union. Finally, the Waldorf Astoria meeting tells us how MacArthur's most famous warning—to "never fight a land war in Asia"—has come down to us, what he meant by it, and whether, in an age of American troop deployments in at least 133 countries, it retains its meaning." (The American Conservative)
They discussed Laos and Vietnam, where communist insurgencies were gaining strength. The Congress, Kennedy said, was pressuring him to deploy U.S. troops in response. "MacArthur disagreed vehemently: "Anyone wanting to commit ground troops to Asia should have his head examined," he said. That same day, Kennedy memorialized what MacArthur told him: "MacArthur believes it would be a mistake to fight in Laos," he wrote in a memorandum of the meeting, adding, "He thinks our line should be Japan, Formosa, and the Philippines."
---
MacArthur's Last Stand Against a Winless War (The American Conservative, 10-3-18)
Second Meeting
July 20, 1961 - General Douglas MacArthur visits President John F. Kennedy at the White House (YouTube)
A video summary of Kennedy's second meeting with MacArthur
Third Meeting
Kenedy Meeting with MacArthur at the White House August 16th, 1962 (JFK Library)
John F. Kennedy Meeting Tape with MacArthur at the White House August 16th, 1962 (Archive.org)
---