SLAVERY AND REPARATIONS
AN AMERICAN DEBATE
SOME KEY LINKS AND DOCUMENTS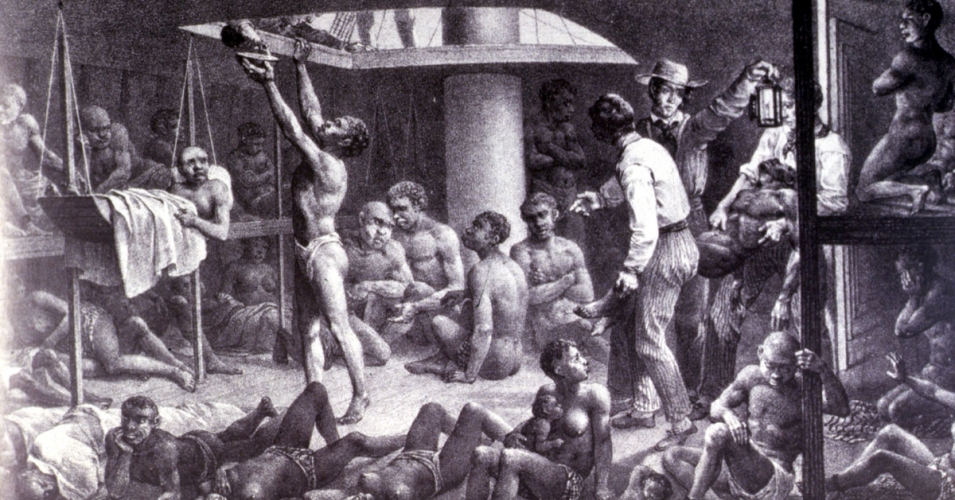 ---
SEE ALSO WFF REPORTS:
Death Toll from the Slave Trade
---
Imperialism is as old as history. Conquest, genocide and slavery are hardly new events. Thus, the conquest of North America by Europeans was hardly a unique event. The use of slavery to build a great economy and forcible repatriation of the local inhabitants into concentration camps and small "reservations" all had precedents in history.
What was unique, however, about American imperialism in the last 300 years was the level of deceit and hypocrisy that accompanied it. All these war crimes were disguised as some sort of effort to promote "freedom" and "democracy".
You cannot live a lie and you cannot build a viable future by means of delusions about your past. The articles we list below will help people see how America (like so many other large empires) was built on ruthless policies of power politics and racial imperialism. Indeed, Hitler saw the conquest of the American west as an inspiration for his plans for conquering Russia. See our report on this. Hopefully, we shall move to a world where these facts are accepted for the realities that they are.
In terms of sheer brutality, the origins of modern American power are among the grimmest actions in world history. We do not have an opinion about whether reparations should be paid to blacks and native Americans. However, it is ludicrous to deny the importance of slave labor in helping to create America as a world imperial power.
The economic facts are documented in expert analysis of scholars like Joe Feagin. Feagin estimates that that the financial compensation due to black America from their "stolen labor" runs between $5 and $24 trillion.
Also, the concept of reparations for black Americans is not some fringe, exotic idea but was actually part of bill passed by both houses of Congress in 1866 (but vetoed by President Andrew Johnson).
In today's America leaders such as Congressman John Conyers and Randal Robinson have brought up the issue of reparations. Contrary to claims of critics, few are talking about mailing checks to African Americans. However, the issue of a debt is a relevant subject of debate in the allocation of national resources. The US government budget and tax system contains billions and billions of dollars of special privileges for all sort of interests.
The structure of wealth in today's America is a direct result of the structure of past actions of the American government. The question of an unpaid debt is a relevant subject of debate.
We simply ask people to read some of the material here and make up their own minds.
---
NOTE: BRIEF STATEMENT OF PUBLICATIONS PRINCIPLES
The World Future Fund serves as a source of documentary material, reading lists and internet links from different points of view that we believe have historical significance. The publication of this material is in no way whatsoever an endorsement of these viewpoints by the World Future Fund, unless explicitly stated by us. For a more detailed statement of our publications standards click here.
---
THE ECONOMIC CONSEQUENCES OF SLAVERY IN THE U.S.
YESTERDAY & TODAY
Wealth of a White Nation
An article from Black Commentator by Glen Ford and Peter Gamble, which cites the Pew Center Report above in making a
detailed case for the economic viability of and moral justification for reparations.
The Homestead Act: Our Earliest National Asset Policy PDF File
An article by Trina Williams which demonstrates that a) white Americans benefited from huge financial gains as a result
of the U.S. Government's Homestead Act of 1862 (amounting to one of history's largest federal subsidies)
and b) that, in contrast, black Americans received practically nothing.

Understanding Mobility in America PDF File
A fascinating essay by Tom Hertz of the Center for American Progress which documents growing economic hardship in the United States.
One of Hertz' most important findings is that intergenerational economic mobility in the U.S. is lower than in many European countries.
MORE ARTICLES
A Legal and Moral Basis for Reparations
Sociologist Joe Feagin on the Web
A Review of Randall Robinson's Case for Reparations for Afro-Americans
The Economic Cost of Slaveholding
The Microeconomic Analysis of Slavery
The Economics of Slavery
Statistics: Economics and Slavery

Significant Dates in History of Black Land Loss
BOOKS
Should America Pay?: Slavery and the Raging Debate on Reparations by PhD Winbush Raymond
Racist America: Roots, Current Realities, and Future Reparations by Joe R. Feagin
The Wealth of Races: The Present Value of Benefits from Past Injustices by Richard F. America
The Rise of African Slavery in the Americas by David Eltis
BOOK LISTS
Reparations for African Americans
War Crimes against Native Americans
---
PAST PROPOSALS FOR REPARATIONS
Contrary to current conventional wisdom, the United States Government did take seriously the idea of reparations after the Civil War. It was a fundamental part of General Sherman's plan for rebuilding the South and was a part of a bill passed by both houses of Congress.
GENERAL SHERMAN'S ORDER NUMBER 15, 1865
"The islands from Charleston, south, the abandoned rice fields along the rivers for thirty miles back from the sea, and the country bordering the St. Johns river, Florida, are reserved and set apart for the settlement of the negroes now made free by the acts of war and the proclamation of the President of the United States. ... Whenever three respectable negroes, heads of families, shall desire to settle on land, and shall have selected for that purpose an island or a locality clearly defined, within the limits above designated, the Inspector of Settlements and Plantations will himself, or by such subordinate officer as he may appoint, give them a license to settle such island or district, and afford them such assistance as he can to enable them to establish a peaceable agricultural settlement. The three parties named will subdivide the land, under the supervision of the Inspector, among themselves and such others as may choose to settle near them, so that each family shall have a plot of not more than (40) forty acres of tillable ground, and when it borders on some water channel, with not more than 800 feet water front, in the possession of which land the military authorities will afford them protection, until such time as they can protect themselves, or until Congress shall regulate their title." -- Special Field Orders No. 15, General William. T. Sherman, Savannah, GA, January 16, 1865
Note: Sherman's field order was later rescinded by President Andrew Johnson, rendering it null and void.
SENATE BILL S. 60, PASSED BY BOTH HOUSES OF CONGRESS
"... The President is hereby authorized to reserve from sale or from settlement ... and to set apart for the use of freedmen and loyal refugees, male or female, unoccupied public lands in Florida, Mississippi, Alabama, Louisiana, and Arkansas, not exceeding in all three millions of acres of good land; and the Commissioner, under the direction of the President, shall cause the same from time to time to be allotted and assigned, in parcels not exceeding forty acres each, to the loyal refugees and freedmen, who shall be protected in the use and enjoyment thereof." -- Senate Bill S.60, January 30, 1866
Note: This legislation was vetoed by President Andrew Johnson. A second bill establishing the Freedmen's Bureau was later passed, but without the land grant provisions. The promise of a mule to Black farmers was never made in either this legislation or in Sherman's field order above.
"... To each male person who is the head of a family, forty acres; to each adult male, whether the head of a family or not, forty acres, to each widow who is the head of a family, forty acres-to be held by them." -- Reparations Bill for the African Slaves Held in the United States (H.R. 29), Introduced March 11, 1867
Note: This bill, introduced by Thaddeus Stevens, was never passed by the U.S. Congress. It would have made the land provisions in General Sherman's Special Field Orders No. 15 federal law.
Historical Background
40 Acres and A Mule
The History of 40 Acres and a Mule
History of The Freedmen's Bureau
The Freedmen's Bureau Online
"The Freedmen's Bureau" by W.E.B. DuBois
---
REPARATIONS BILLS 2021
President Joe Biden has voiced support on a study on whether descendants of enslaved people should receive reparations, says White House spokeswoman Jen Psaki (Aljazeera, 2-17-21).
Democratic Representative Sheila Jackson Lee in January reintroduced the HR-40 bill, which was being debated by a subcommittee of the House Judiciary Committee.
She said the following on the bill. "We believe in determination, and we believe in overcoming the many bad balls that we have been thrown; we've caught them, and we've kept on going. That is not the point of H.R. 40," Jackson Lee said in her opening statement. "Now more than ever, the facts and circumstances facing our nation demonstrate the importance of H.R. 40 and the necessity of placing our nation on the path to reparative justice."
Fellow Democratic Representative Steve Cohen, who chairs the House Subcommittee on the Constitution, Civil Rights and Civil Liberties, told a hearing it was fitting to consider HR-40 at a time when the country is reckoning with police violence against Black people and a pandemic that has disproportionately affected people of color.
Last year, Biden told the Washington Post newspaper that "we must acknowledge that there can be no realization of the American dream without grappling with the original sin of slavery and the centuries-long campaign of violence, fear, and trauma wrought upon Black people in this country." (Aljazeera, 2-17-21)
LINKS
H.R.40 - Commission to Study and Develop Reparation Proposals for African Americans Act (Read Bill Here - Congress.gov)
House subcommittee debates reparations bill for Black Americans (The Hill, 2-17-21)
White House says Biden supports study of slavery reparations (Aljazeera, 2-17-21)


---
REPARATIONS BILLS 2019
Presidential Candidate and U.S. Senator Cory Booker (D-N.J.) has introduced a reparations bill to the Senate. The bill, which currently has 12 co-sponsors, would establish a commission to study the impact of slavery on African Americans and suggest proposals that would help repay descendants of slaves for the costs of centuries of racial discrimination.
"We cannot address the institutional racism and white supremacy that has economically oppressed African-Americans for generations without first fully documenting the extent of the harms of slavery and its painful legacy," Booker said in the statement. "It's important that we right the wrongs of our nation's most discriminatory policies, which halted the upward mobility of African-American communities. I'm encouraged to see this legislation to study the issue gain support in Congress and the shared commitment my colleagues have in doing our part to repair the harm done to African-Americans."
The bill's 12 co-sponsors are U.S. Sens. Edward Markey (D-Mass.), Kirsten Gillibrand (D-N.Y.), Kamala Harris (D-Calif.), Elizabeth Warren (D-Mass.), Bernie Sanders (I-Vt.), Richard Durbin (D-Ill.). Mazie Hirono (D-Hawaii), Amy Klobuchar (D-Minn.), Christopher Coons (D-Del.), Bob Casey (D-Pa.), Chris Van Hollen (D-Md.), and Tammy Duckworth (D-Ill.).
Several civil rights groups have thrown their support behind the bill. Including the NAACP Legal Defense and Education Fund; Rev. Al Sharpton and the National Action Network (NAN); TransAfrica Forum; United Church of Christ; United Methodist Church General Board of Church; and Society and the Detroit Board of Education.
There is also an equivalent bill in the House, which was introduced by Rep. Jackson Lee, Sheila (D-TX)
Bills
Senator Cory Booker
Articles
Cory Booker Secures 12 Co-Sponsors for Reparations Bill (The Root, 6-13-19)
---
REMEMBER THE HARD WORK OF JOHN CONYERS
THE PROPOSED CONYERS COMMISSION (H.R. 40)
In November 1989, Rep. John Conyers (D-Mich) introduced legislation into the House calling for the creation of a committee to study the issue to study the societal effects of slavery in the U.S. This bill (originally H.R. 3745, now H.R. 40), Conyers wrote, was intended "To acknowledge the fundamental injustice, cruelty, brutality, and inhumanity of slavery in the United States and the 13 American colonies between 1619 and 1865 and to establish a commission to examine the institution of slavery, subsequent de jure and de facto racial and economic discrimination against African Americans, and the impact of these forces on living African Americans, to make recommendations to the Congress on appropriate remedies, and for other purposes." The bill was referred to committee and never saw the light of day. Conyers has re-introduced the bill every congressional session since 1989. It has never made it out of committee regardless of whether or not the House has been controlled by either Democrats or Republicans.
Commission to Study Reparation Proposals for African Americans Act (H.R. 40) Nov. 1989
The Case for Reparations: TransAfrica Forum with John Conyers and Randall Robinson (Transcript)
Congressional Black Caucus Forum on Reparations
---
Background
WFF Report: Christianity and Slavery
From Slavery to Freedom (Book)
The Slave Trade
Slavery: A General History
African Holocaust
Maafa: The African-American Holocaust
The Maafa
A Chronology of Slavery: 1619-Present
PBS: Africans in America

Harper's Weekly Reports on Black America
---
Text of the Fourteenth Amendment
Text of the Fifteenth Amendment
The History of Jim Crow
The Rise and Fall of Jim Crow
Jim Crow Laws

---
REPARATIONS ADVOCACY ORGANIZATIONS
National Coalition of Blacks for Reparations in America
Randall Robinson: Reparations for Afro-Americans

Afrocentric: Reparations
The African-American Reparations Network
Reparations for Slavery
Restitution Study Group
Caucasians United for Reparations and Emancipation
New World Reparations
Slavery Reparations

Reparations: An Academic Argument
The Reparations Debate
---
The U.S. National Slavery Museum

The Harriet Tubman Museum
The Association of African American Museums
The African-American Museum in Philadelphia
The Museum of African American History Boston and Nantucket
The Wright Museum of African American History