TRUMP AND NUCLEAR WAR
HE HAS THE LEGAL POWER
TO END ALL LIFE ON THE PLANET.
A CAREFULLY DOCUMENTED LOOK AT THE FACTS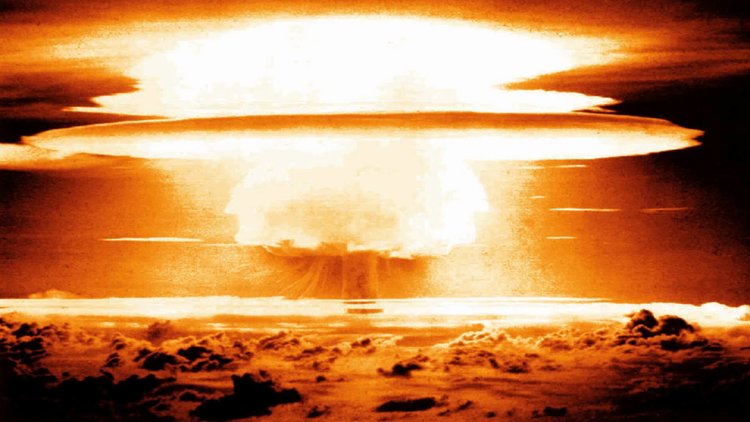 DISCLAIMER: We are not going to comment about the President's fitness to launch a nuclear attack. The point of this report is merely to point out the facts about the President's nuclear authority.
If President Donald Trump decided to launch a pre-emptive nuclear strike, would anyone have the power to stop him? The answer is no. The President has complete legal authority to initiate a nuclear attack.
Congress cannot stop him, nor his Secretary of Defense. The military is duty-bound to follow his orders. He doesn't even have to ask Congress or the courts for permission. He can consult any and all — or none — of his national security advisers, and no one can legally countermand his order. If he gave the green light using his nuclear codes, a launch order the length of a tweet would be transmitted and carried out within minutes.
Military officers can only disobey unlawful, illegal orders. But that point is irrelevant here, since the President has the legal authority to launch a nuclear strike. If a military officer disobeyed him, this would be insubordination. For members of the military, refusal to obey a lawful order is a criminal offense and thus would be punished as a crime. So a military officer would be legally required to obey Donald Trump if he gave the command to launch a nuclear strike. A civilian would only have the right to resign.
Some aspects of presidential nuclear war-making powers are secret and therefore not well understood by the public. The system is built for fast decision-making, not debate. That's because speed is essential in a crisis. Russia has long-range missiles that could reach the U.S. in about 30 minutes. Submarine-launched missiles fired from nearer U.S. shores might arrive in half that time. The U.S. President would have less than 10 minutes to absorb this information, review his options and make a decision in such an event.
Bruce Blair, a former nuclear missile launch officer has stated the following about Donald Trump's authority to launch a nuclear war:
"The protocol for ordering the use of nuclear weapons endows every president with civilization-ending power. [Trump] has unchecked authority to order a preventive nuclear strike against any nation he wants with a single verbal direction to the Pentagon war room." (Washington Post). Bruce Blair has also said there is no way to reverse the President's nuclear order once made. And there would be no recalling missiles once launched.
It was the Atomic Energy Act of 1946, passed by Harry Truman, that firmly put the power of the atomic bomb in the hands of the President. This was done with an eye toward future standoffs with the Soviet Union. Congress later held hearings on this issue in the mid-70s, but nothing came of them. In the early 1980s, Jeremy Stone, then the President of the Federation of American Scientists, proposed that Congress ought to pass a law restricting presidential use of nuclear weapons. But this idea was rejected by many legal scholars who noted that Congress has often been far more belligerent than presidents and that the logistics could be complicated. (Washington Post)
In November 2017 for the first time in 40 years the Senate held a hearing on Presidential authority and nuclear war. This hearing further confirmed that the President does indeed hold complete authority to launch a nuclear attack.
---
SEE OUR OTHER REPORTS
When the Cold War ended in 1991, many people around the world breathed a collective sigh of relief. It seemed that the possibility of nuclear annihilation had been averted.
But today the threat looms closer than many people think.
Nuclear War in the USA, What's in it For You?
Today much of Washington is in a war fever against Russia. People should understand what is at stake.
Click here to see what would happen if there was a nuclear attack in your neighborhood.
---
TRUMP'S AUTHORITY TO LAUNCH NUCLEAR WEAPONS
No one can stop President Trump from using nuclear weapons. That's by design (The Washington Post, 12-1-16)
Why President Trump Has Exclusive Authority To Order A Nuclear Strike (NPR, 10-3-17)
Could Anyone Stop Trump from Launching Nukes? The Answer: No (Snopes, 11-13-17)
Presidents have too much power over U.S. nukes. Especially President Trump. (The Washington Post, 8-18-17)
MILITARY CODE OF CONDUCT
Defense Primer: Command and Control of Nuclear Forces (Congressional Research Service)
National Command Authority (Wikipedia)
Military Members, the Constitution, and Lawful Orders (Info Ripple)

SENATE HEARING 2017 ON TRUMP'S AUTHORITY TO LAUNCH NUCLEAR ATTACK
Full Committee Hearing Authority to Order the Use of Nuclear Weapons (Immediately following Business Meeting) VIDEOS AND TRANSCRIPTS OF TESTIMONIES
NEWS ARTICLES ON SENATE HEARING
A Nuclear Reckoning: Senators Ponder the President's Power to Launch Armageddon (War on the Rocks, 11-24-17)
'Then What Happens?': Congress Questions the President's Authority to Wage Nuclear War (The Atlantic, 11-15-17)
Senate committee questions Trump's nuclear authority (Reuters, 11-14-17)
---
TRUMP LOWERS THRESHOLD FOR NUCLEAR WEAPON USE
What is also troubling is that there are many signs President Trump is open to the use of nuclear weapons as a deterrent, and his administration has taken steps to make this more likely. He has endorsed lowering the threshold for nuclear war by building "smaller, friendlier," low-yield nuclear bombs and putting these new warheads on Trident submarine missiles. The supposed idea behind the low-yield bomb is that if it does less damage than a conventional nuclear weapon, we might be more likely to use it, and if Russia thinks we are more likely to bomb them, this is supposed to act as some sort of deterrent. There are many reasons why this thinking is dangerous insanity.
As Rep. David Hobson (R-Ohio) said in 2004 when this idea was originally proposed under Bush, "What worries me about the nuclear penetrator [low-yield bomb] is that some idiot might try to use it."
There is no such thing as a limited or controlled nuclear war. As Secretary of Defense Jim Mattis said: "I don't think there's any such thing as a tactical nuclear weapon. Any nuclear weapon used at any time is a strategic game changer." (The National Interest).
Yet the Trump administration plans to spend $1.7 trillion to rebuild the nuclear arsenal over the next thirty years. In the Trump Administration's 2019 budget to Congress, there is $50 million allocated to build the new Trident warheads.
Sixteen senators wrote a Jan. 29 letter to Trump out of concern that his new policies "increase the risk of a nuclear arms race and raise the real possibility of nuclear conflict."
Other signs indicate that Trump is very open to nuclear weapons use. His administration's new Nuclear Posture Review reveals "a shift from one where the use of nuclear weapons is possible to one where the use of nuclear weapons is likely," Beatrice Fihn, executive director of the International Campaign to Abolish Nuclear Weapons (ICAN), said in a statement. (Truth-out). The Nuclear Posture Review states that nuclear weapons can be used in response to a non-nuclear threat.
Putin alluded to the Nuclear Posture Review (NPR) in a speech, noting, "Some of the provisions of the updated US nuclear strategy review, which reduces the threshold for using nuclear weapons, trigger tremendous concern. It is written in such a way that it can be used in response to a conventional weapon strike or even in response to a cyberthreat."(Truth-out)
DONALD TRUMP'S OFFICIAL NUCLEAR POLICY
The Nuclear Posture Review- Office of the Secretary of Defense PDF
A letter from 16 senators who are alarmed by Trump's nuclear policies PDF
TRUMP LOWERS THE THRESHOLD FOR NUCLEAR WAR
Trump's New 'Low-Yield' Nuclear Weapon: Two Bad Ideas Rolled into One (The National Interest, 3-10-18)
From Mutually Assured Destruction to Mutually Assured Delusion (and Back?) (The National Interest, 3-12-18)